The MacBook Air is Apple's most popular MacBook, likely because of its price point and suitability for general users. We love the MacBook Air, it's a great all round device and the introduction of the M1 processors has really pushed the boundaries of what it can handle, especially when configured with 16GB memory.


Apple currently offers the M1 MacBook Air, originally introduced in November 2020 and the M2 MacBook Air, introduced in July 2022. Originally the M1 MacBook Air was available with two GPU options (7-core and 8-core) however when they introduced the M2 model, Apple discontinued the 8-core GPU option.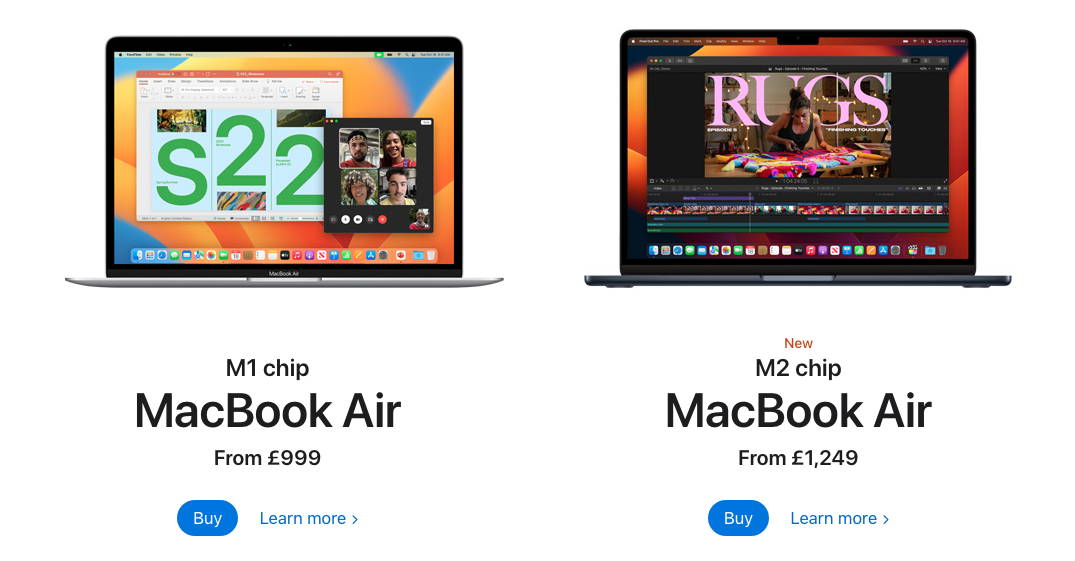 One of the main benefits of purchasing a refurbished Mac from Hoxton Macs is that you can make significant savings with no compromise on quality. Comparing prices as a consumer can often be tricky as it requires familiarity with computer specifications and Apple's product releases. It gets even more confusing when you factor age in, as it becomes difficult to make like for like comparisons. To illustrate the savings we've tabulated our M1 MacBook Air prices in comparison to Apple's at the moment...
M1 MacBook Air: Apple vs Hoxton Macs prices
| | | | |
| --- | --- | --- | --- |
| MacBook Air 13-inch M1 | Apple price | Hoxton Macs price | Hoxton Macs Saving |
| | | | |
| | | | |
| | | | |
| | | | |
* Prices accurate as of 28/03/23
Apple's entry level model with 256GB storage and 8GB memory starts from £999, compared to £730 from Hoxton Macs. This is a saving of £269 (that's a pair of 2nd generation AirPods Pro + £20 change!).
The percentage saving increases with the built to order models, for example the 1TB storage and 16GB memory model which Apple retail for £1599. Hoxton Macs price this from £1050 which is a £549 saving (that's a new iPad +£50!).  
Warranty, dispatch time, VAT inclusive pricing
If you're purchasing from Hoxton Macs you can rest assured that prices are competitive. In addition to great prices, all Hoxton Macs devices are supplied with a one year warranty and if they are in stock on our website they will be available for dispatch, meaning there will be no lengthy waits for upgraded models. If you are a business, you'll also be happy to hear that all prices are VAT inclusive.
---