After being announced in November last year Apple's Self Service Repair programme has now been launched in the US. Currently only recent model iPhones are being supported, however according to Apple they are hoping to expand repairability across all their devices in the future.
In this article we take a look at the program, the guidance, tools, costs and what this all actually means.
Detailed repair guides have been provided and they look very slick indeed, with clear images and instructions. Information provided even goes as far as providing screw types and torques.
The guides are easy to follow and clearly explained steps but components are small and delicate which may be challenging for users not experienced with repairing electronics.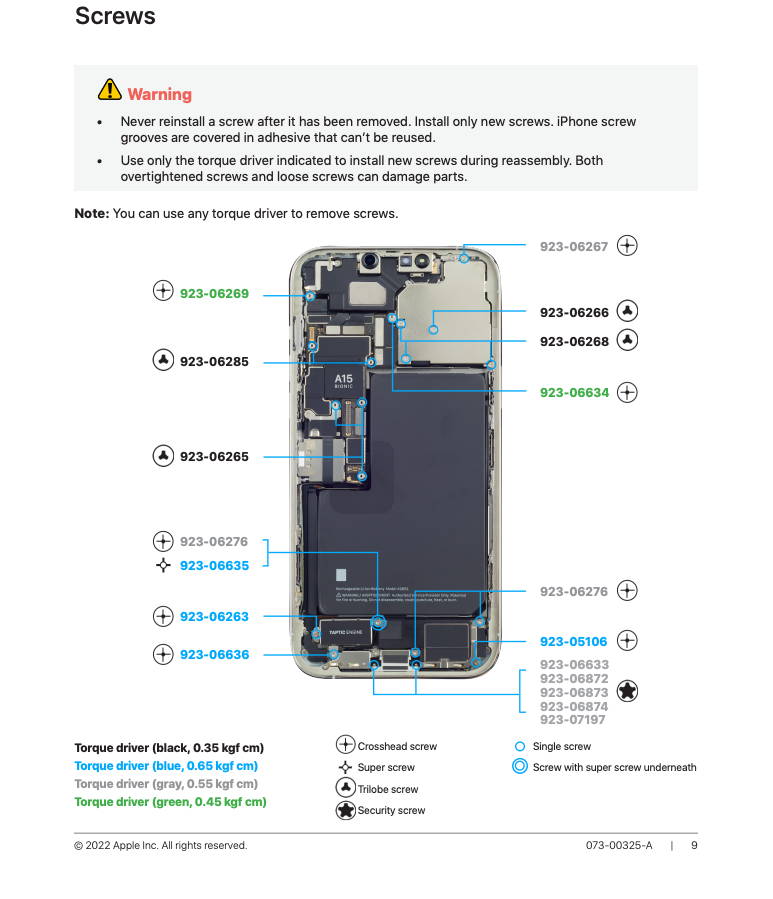 Apple provide a list of the tools required for the job. The tools required are often specialist and may not be included in the typical tool-kit. Apple will sell you the tools required but they are expensive and would make a single repair uneconomical.
For example, a screen replacement will require the following specialist tools,
Repair Tray $50
Heated Display Pocket $108
Display Press $216
Heated Display Removal Fixture $256.35
Total: $630.35
In addition to this you will need a torque driver and the specified bits.
Clearly not worth it if you are repairing just your own device. Luckily Apple have come up with a rental solution where they will loan the tools over 7 days for $49.

The cost of replacement components is fairly close to the cost of a repair carried out by Apple.
For example display replacement through Apple's Self Repair Program will set you back $234.36 (with a credit of $33.60 for returning the broken part), plus $49 for tool rental making it $283.36 total.
Having Apple perform the repair for you costs $279 and other than booking an appointment to the Apple Store you have no responsibilities for fiddling with minute screws!


Display Repair using Self Repair Program*
$283.36
(+$33.60 credit for returning broken part)
Display Repair by Apple
$279
Battery Repair using Self Repair Program*
$115.99
(+$24.15 credit for returning broken part)
*This is based on the current pricing for the iPhone 13 and includes $49 for rental of the Tool Kit.
Whilst being able to repair your own devices is a step in the right direction and offering this new service may satisfy some of the right to repair laws, in reality it offers very little advantage compared when using Apple to perform the repair in terms of cost, we suspect this is a conscious decision by Apple to discourage individuals from repairing their own devices.

The Self Service Repair Service is likely aimed at independent repair shops that can absorb the tool costs and who were struggling to perform repairs due to Apple's continued tightening on using only official components. If providing the repairs in volume it will offer them a margin to allow them to repair devices at a cost close to Apple.

Ultimately this is good for users who might not live near an Apple Store or Authorised Repair Centre but fairer pricing is needed to make this a real gesture towards the right to repair for individuals.
---