Apple released the M2 processor in June 2022, the second generation of their in-house Apple Silicon processors. The M2 processor was featured in an upgraded entry level 13-inch MacBook Pro, shortly followed in July 2022 by the newly redesigned MacBook Air. Upgrades to the 14 and 16-inch MacBook Pro and Mac mini are anticipated in late 2022.

Now the M2 MacBook Pro and Air have been out for a few months we are able to make some real life comparisons in performance compared to the previous M1 models, but first what are the differences in specification?


| | | | | | |
| --- | --- | --- | --- | --- | --- |
| Processor | Codename | Process | Memory type | CPU cores | GPU cores |
| | | | | | |
| | | | | | |
TMSC is the chip manufacturer that Apple use to make the M1 and M2 chips. For the M2 they have used a newer version of their 5nm manufacturing process called N5P which is touted to improve performance and reduce power consumption.


The M2 chip uses a newer type of memory, LPDDR5-6400 which has an increased bandwidth over the older LPDDR4X-4266 memory of the M1 and is more power efficient to boot. The M2 chip also supports a maximum of 24GB RAM, whereas the M1 was limited to 16GB.

The number of CPU cores in the M2 chip remain unchanged, however the number of GPU cores has increased to 8 or 10, with 8 in the base config of the MacBook Air (with 10 cores being an upgrade) and 10 cores being standard in the MacBook Pro.
M2 consists of 20 billion transistors — 25 percent more than M1

So how does this translate to real world performance?

Geekbench
Geekbench 5 offers a great way to benchmark the performance of a chip GPU and GPU power. The results are the result of crowdsourced benchmark scores from multiple users running the Geekbench 5 software. There are two different benchmarks, the CPU benchmark and Compute benchmark which measure the CPU and GPU performance respectively.


| | | | |
| --- | --- | --- | --- |
| System | CPU Single-Core | CPU Multi-Core | Compute (Metal) |
| M1 (MacBook Pro 13-inch, Late 2020) | | | |
| M2 (MacBook Pro 13-inch, 2022) | | | |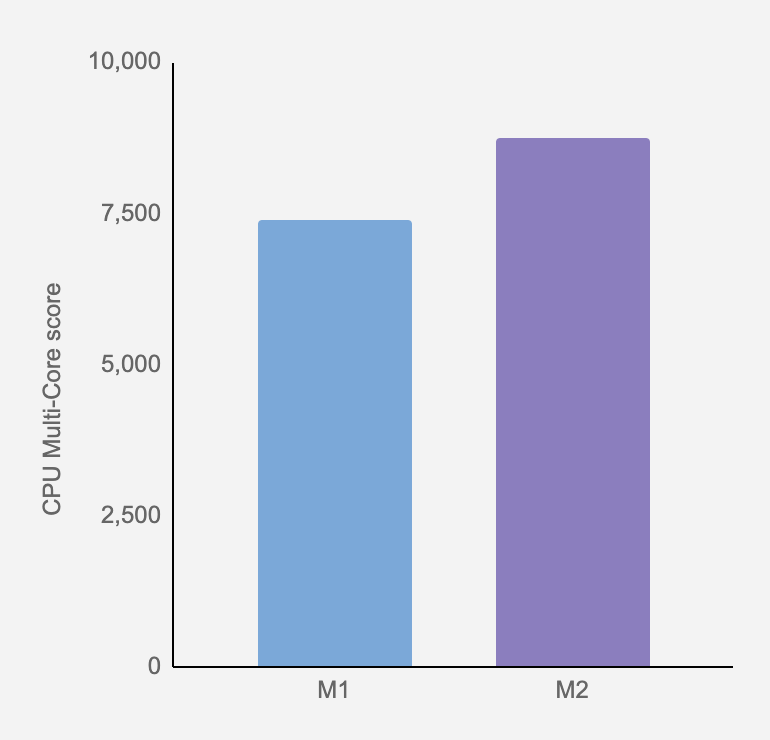 Processor comparison using Geekbench 5 multi-core benchmark score.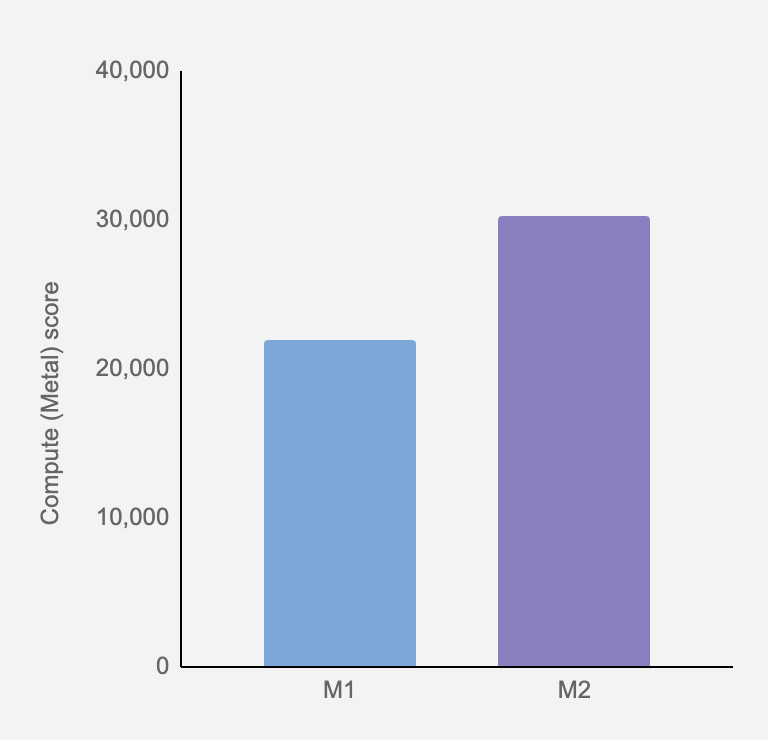 GPU comparison using the Compute benchmark.
Comparing the processors, the M2 shows a 32% increase using the Single-Core benchmark test and a 32% increase using the Multi-core benchmark test. To add some perspective, the 2.3GHz i7 Intel 13-inch MacBook pro from 2020 has a benchmark scores of 1245 and 4551 for Single-Core and Multi-Core, respectively.
Comparing the GPUs, the M2 shows a 38% increase compared to the M2.
Real world performance
Benchmark scores are all well and good but what does this mean for everyday tasks like encoding video? Tom's Guide recently put that to the test by using Handbrake to transcode 4K footage to 1080p.
MacBook Pro 13-inch (Late 2020) with M1
7 min 46s
MacBook Pro 13-inch (2022) with M2
6 min 51s
With the newer chip process and less power hungry memory you would expect the M2 to have a better battery life, however this appears to be the same as M1 for both the MacBook Air and Pro.
Do you need the cutting edge tech? Will a few seconds make a difference to your workflow and you have piles of spare cash? Then go for the M2. If you're happy not owning the very latest device and waiting a few more seconds for a video to encode then buying a refurbished M1 MacBook is going to save you £500+, that's enough for some AirPods and an Apple Watch!
Yesterday, Apple have released a redesigned iPad and updated the iPad Pro with M2 chips with significant prices increases over previous models.
iPad price increases
The new iPad (64GB) costs £499, up 56% from the 9th Gen predescessor which started from £319. The 9th Gen iPad has also had a price increase, from £319 to £369.


iPad (64GB) 9th Gen
iPad (64GB) 10th Gen (new)
iPad (64GB) 9th Gen
£319
£499 (+56%)
£319 Sept 2021
£369 (+16%) Oct 2022)
iPad Pro price increases
The new M2 iPad Pro 11-inch starts from £899, up 20% from the M1 model which started from £749. The new M2 iPad Pro 12.9-inch starts from £1249, up 25% from the M1 model which started from £999.


iPad Pro 11-inch (M1, 128GB) 3rd Gen
iPad Pro 11-inch (M2, 128GB) 4th Gen
iPad Pro 12.9-inch (M1, 128GB) 5th Gen
iPad Pro 12.9-inch (M2, 128GB) 6th Gen
£749
£899 (+20%)
£999
£1249 (+25%)
Notably the iPad mini and iPad Air have also had a price hike with the 64GB iPad mini increasing from £479 to £569 (+19%) and 64GB iPad Air increasing from £569 to £669 (+18%), despite no updates to the hardware.
Price jumps are not limited to the UK, Europe and Asia have also seen similar increases. The strong dollar along with the recent jump in inflation is likely the driving factor behind the increase.
We are expecting Apple to make similar increases on the Mac lineup with the expected update announcements in November, assuming a 20% rise this will put the price of the entry level MacBook Air at ~£1200 and entry level 13-inch MacBook Pro at ~£1600.
---