There are few things in life more upsetting than losing your data. Holiday photos, carefully curated playlists of music or important documents can all be lost in an instant if your device is lost, stolen, or suffers from a failure.
Luckily there has never been an easier time to ensure that your data is backed up on your Mac. There are two main methods of backing up your data, Time Machine and iCloud. In this article we look a the differences with each method and let you know what we think is best.
Time Machine
locally using an external hard drive

iCloud
cloud based, using an internet connection

| | | |
| --- | --- | --- |
| | Time Machine | iCloud |
| Backs up files, music, video and photos | | |
| Backs up applications and device settings | | |
| Data can be accessed without internet connection | | |
| Data is synchronised to other Apple devices | | |
Time Machine is a good option for those who have larger amounts of files to backup and who need fast recovery with the ability for version control. The initial outlay for the external drive may work out cheaper in the long run if you have large amounts of data. This method suits desktop users more as the drive has to be attached via USB/Thunderbolt or on the local network to create backups.
Backs up every file on your device, you can restore your device and it will appear exactly the same as your previous backup.
Utilises an external drive or network attached storage device.
Cannot be synchronised between devices.
Has version control, for example if a document has been saved multiple times over the course of the week you can choose which saved version to recover.
Requires purchasing an external drive, then free to use.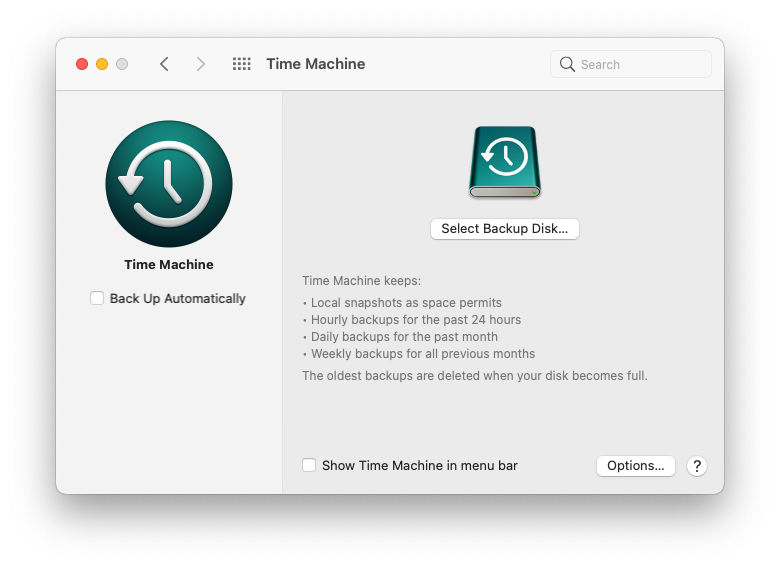 iCloud is a good option for those who want to set and forget, and do not wish to fuss around with additional peripherals. Suits laptops users who may require backups being made on the go.
Backs up photos, music, videos, mail, files and documents (including desktop). Does not backup applications or files held outside of iCloud Drive.
Utilises cloud system that requires an internet connection.
No additional peripherals required, no upfront costs and 5GB storage is free. More storage can be purchased for a monthly subscription (see picture below).
Data can be synchronised between other iOS or macOS devices.
No version control, only the latest saved version of a file will be available.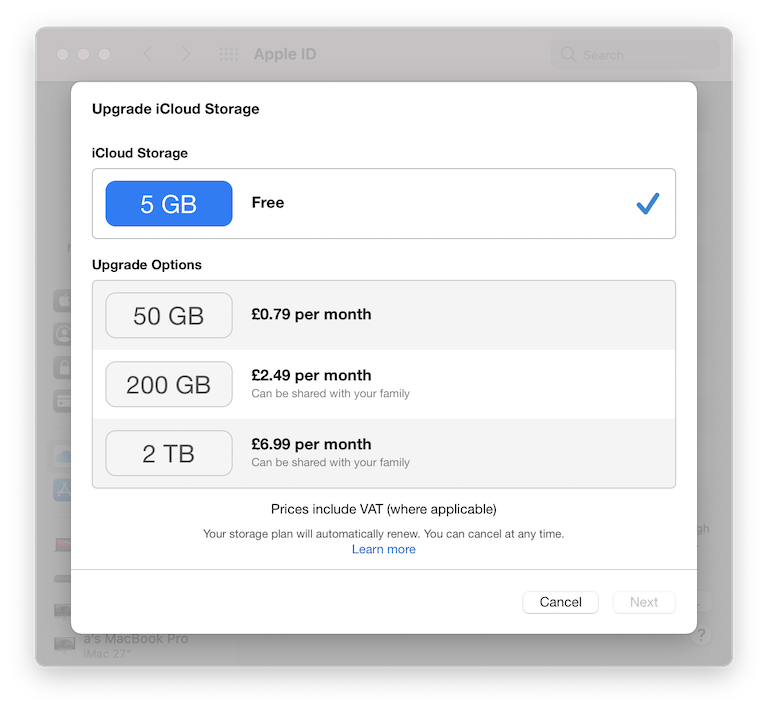 The best option would be to use a mix of both, that way you have double redundancy should your external drive fail or you lose access to your iCloud account.
---