Apple announced the 24-inch M1 iMac back in April 2021, featuring the M1 chip, complete redesign and set of new colours. In this article we take a close look at the new design, features, performance and price.
The most striking characteristic of the new iMac is the new design, with an ultra thin body and set of vibrant colours. The lower priced models are available in blue, green, red and silver, with the higher end models also including yellow, orange and purple. We have both in stock, with savings from £199.
The front of the iMac features a softer colour palette and thinner white bezel, while the back features a bolder grade of each colour. The stand is also redesigned, colour matched to the front of the iMac, uniform in thickness and with a tilt mechanism similar to the predecessor.
This new iMac is so thin (11.5mm) that it can't fit a headphone jack on the back (typically 14mm deep), so Apple have put this on the side.
The iMac uses a new power connector that attaches magnetically and features a 2m coloured cable.
Colour matched accessories are available, along with a newly designed Magic Keyboard Keyboard which is also available with Touch ID, and Touch ID with numeric keypad.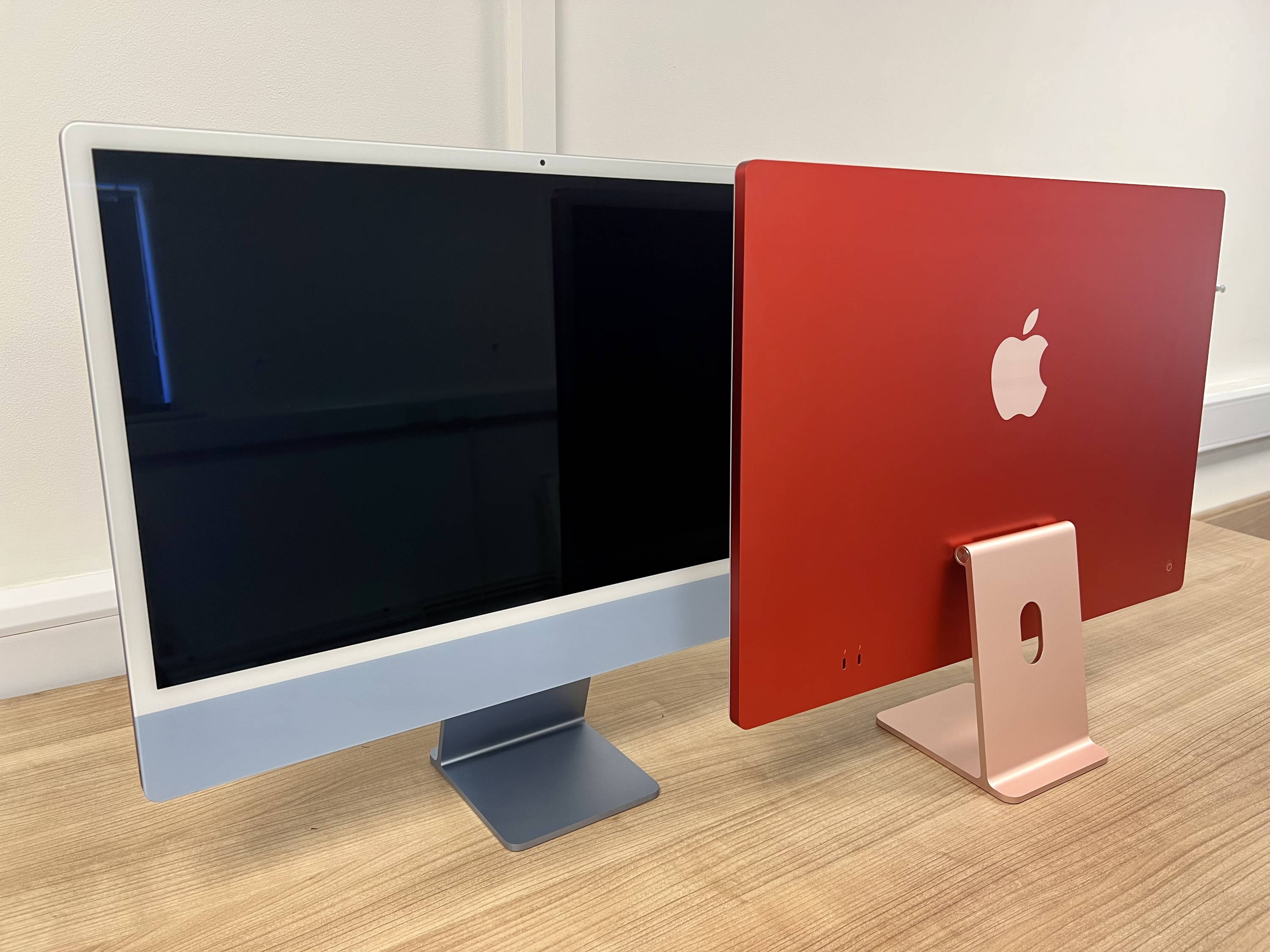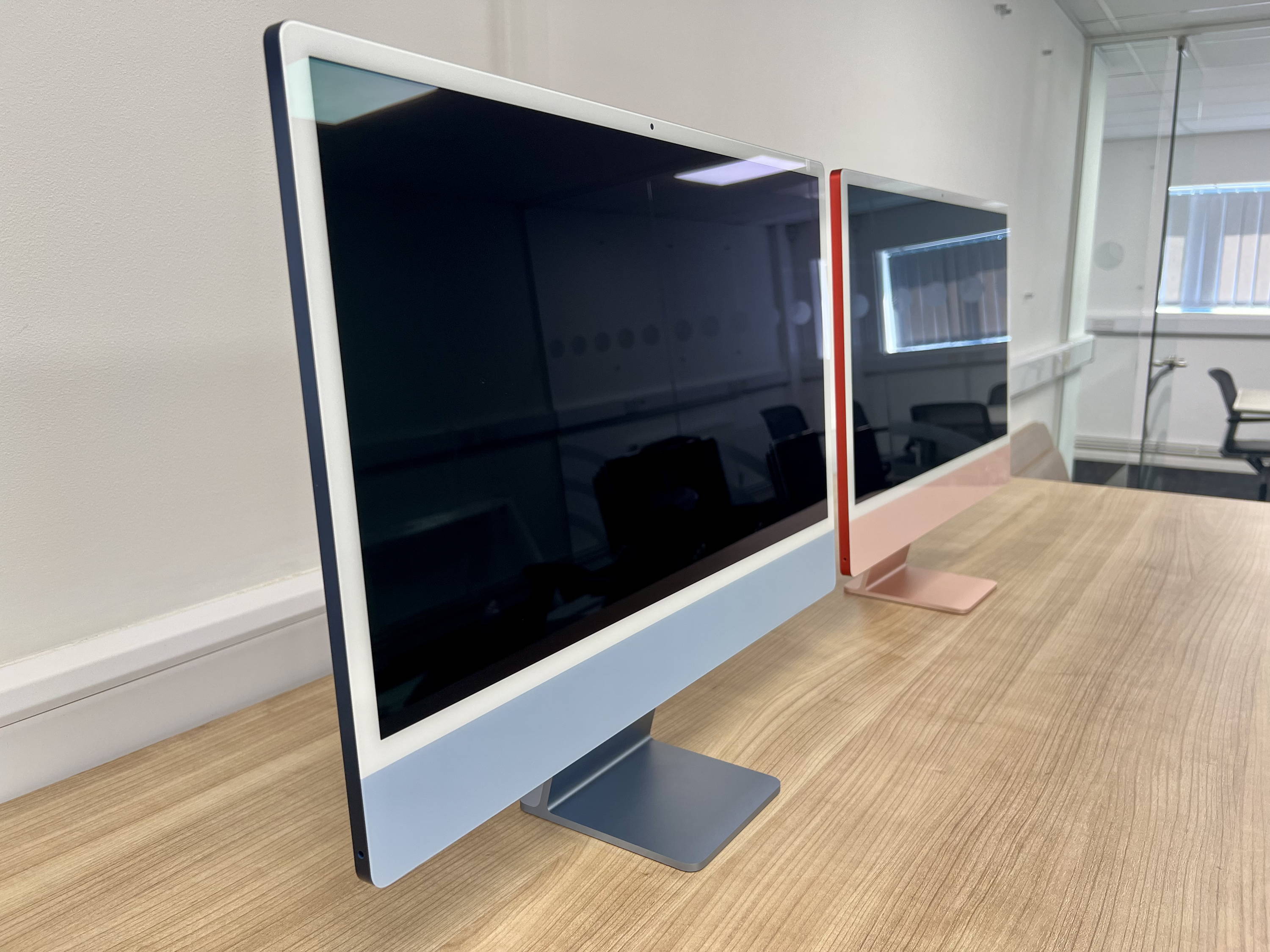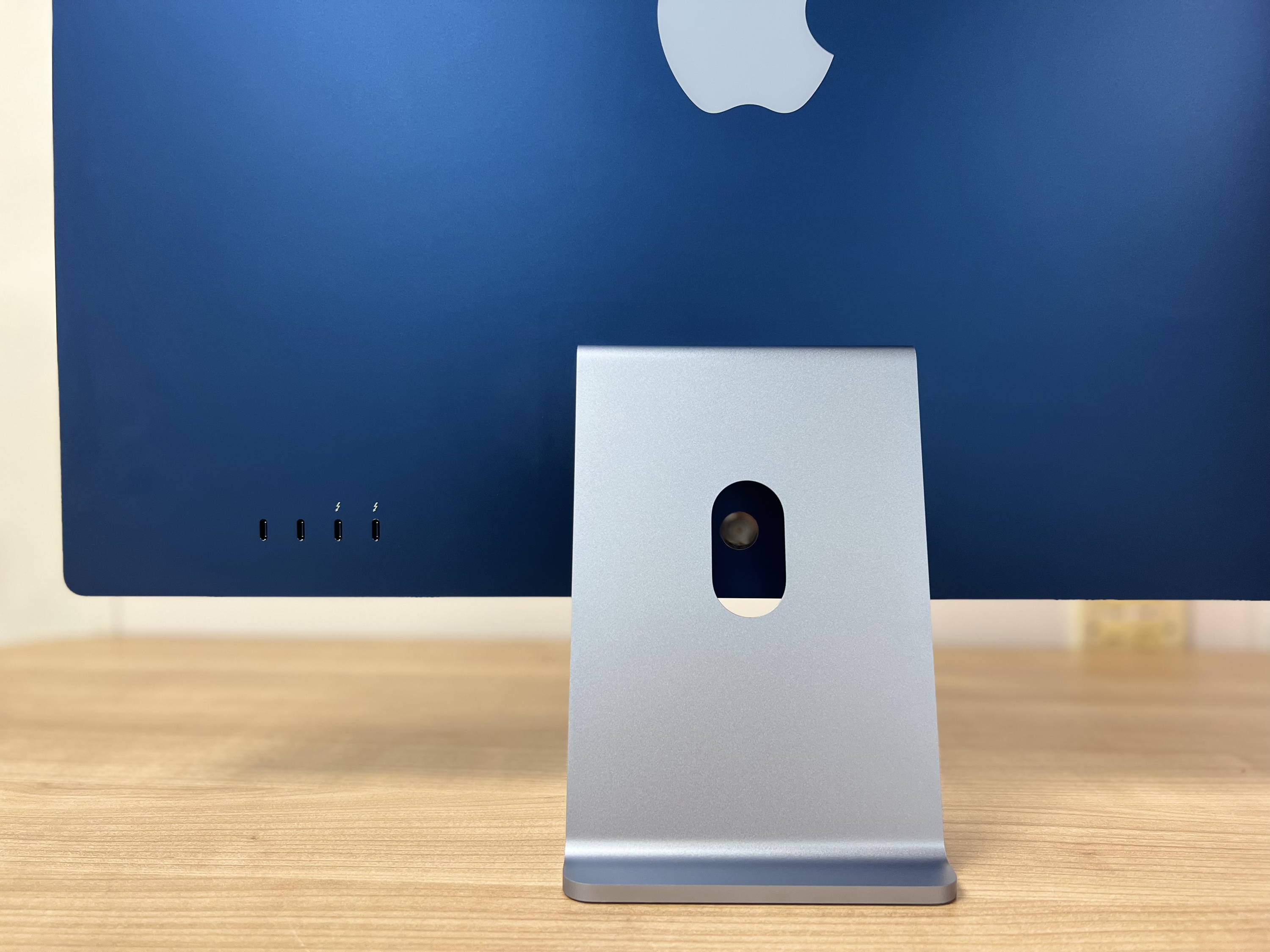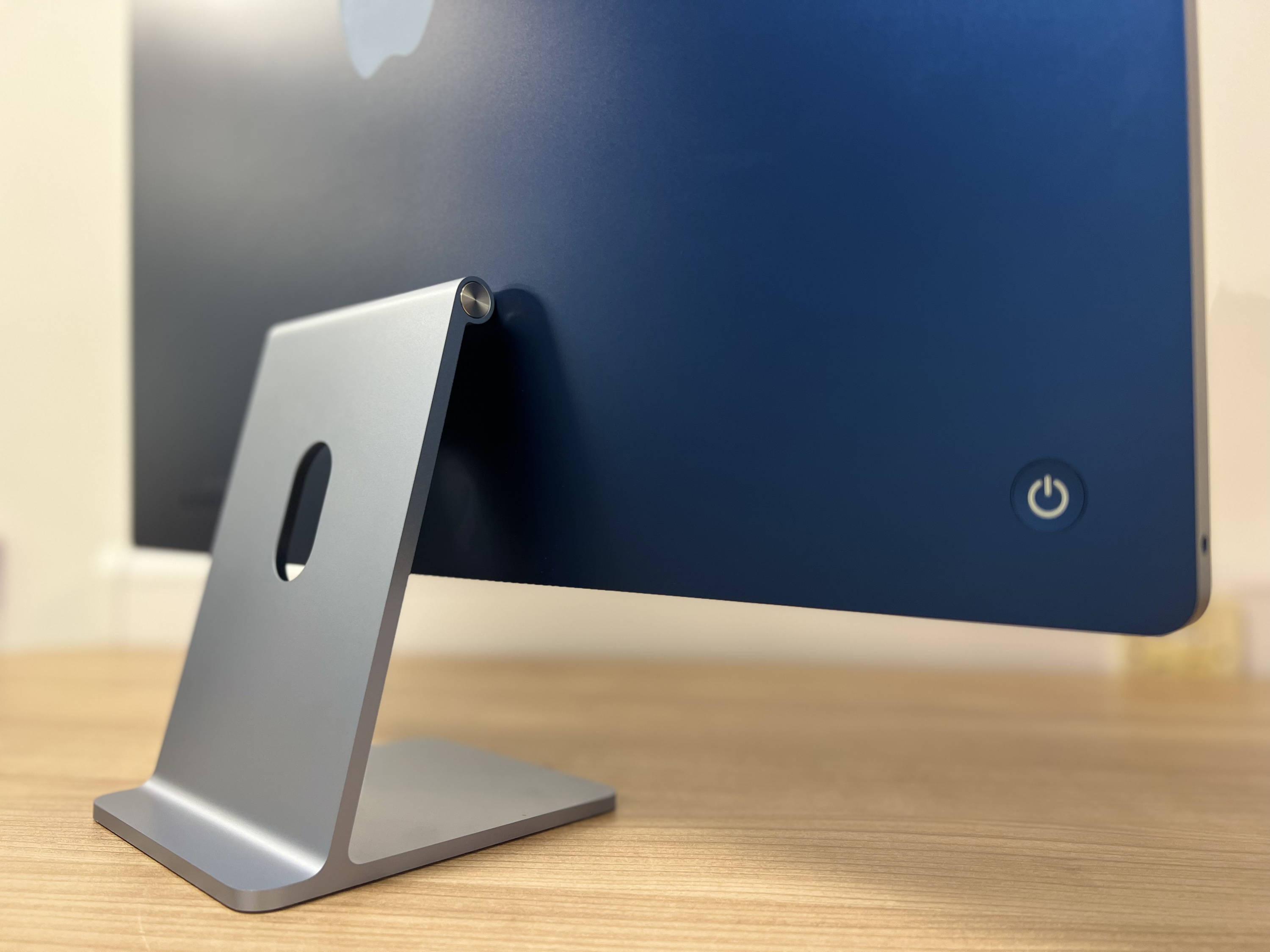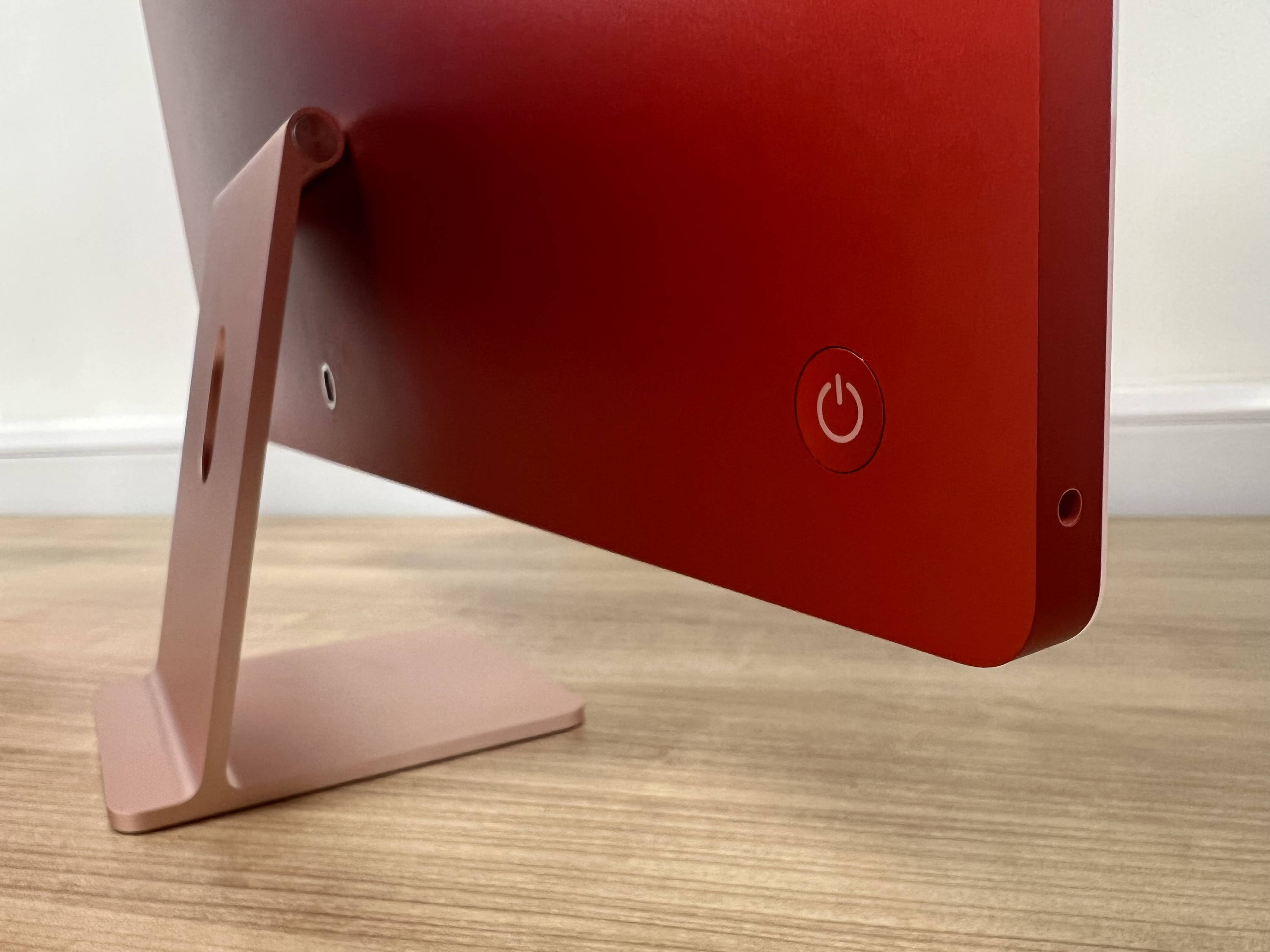 The display is a 24-inch 4.5K Retina display with 11.3 million pixels, 500 nits of brightness, a P3 wide colour gamut, and over a billion colours. It also features Apple's auto adjusting True Tone technology and an anti-reflective coating.
The iMac supports a (up to) 6K external display.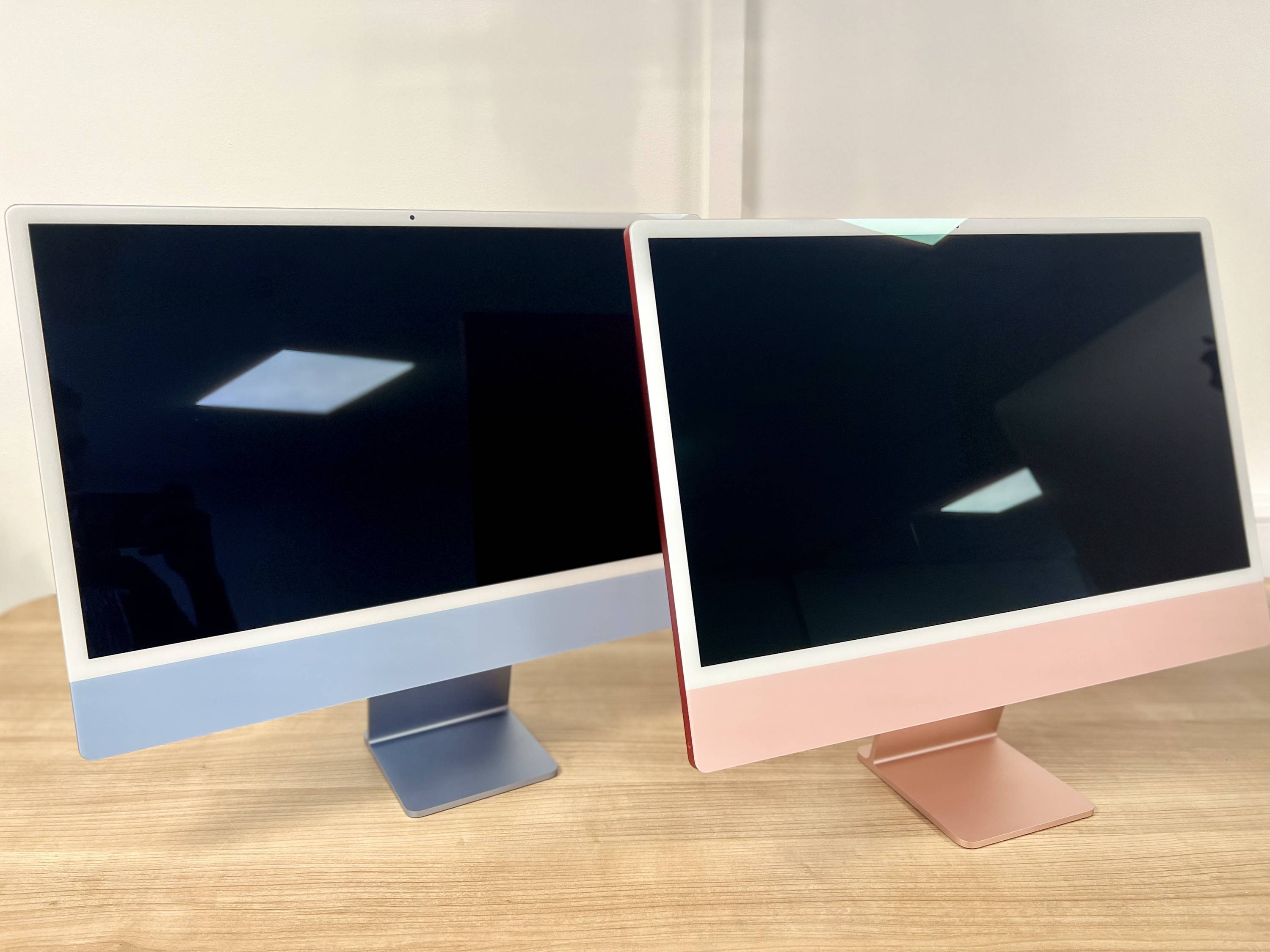 The new iMac benefits from the impressive performance of the same M1 processor chip featured in the 2020 M1 13-inch MacBook Pro, MacBook Air and Mac mini. The M1 chip, which integrates the CPU, GPU and memory in one place allows the thinner design and improved efficiency and thermals, making the Mac quieter and more power efficient than its predecessors.
How does it compare to the previous 21 and 27-inch models?


The 24-inch iMac delivers a significant performance upgrade when compared to standard models of the 2019 21.5-inch iMac. Compared to the previous generation top of the line 21-inch iMac (2019), which features an 8th generation Intel Core i7 chip, the ‌M1‌ ‌iMac‌ is 56% faster when it comes to single-core performance and 24 percent faster when it comes to multi-core performance. Hence the 24-inch is a solid upgrade compared to the 21-inch models.
The high score on the single-core benchmark makes the 24-inch iMac ideal for everyday tasks
Compared to the current top of the line 27-inch ‌iMac‌, which features a 10th generation Intel Core i9 chip, the ‌M1‌ ‌iMac‌'s single-core performance is 38%, but the Intel ‌iMac‌'s multi-core performance is 25%. With these Multi-core scores, the ‌M1‌ ‌iMac‌ is not going to be able to replace the high-end 27-inch ‌iMac‌. The other considerations when for higher end users include;
Memory (RAM), which is available in either 8 or 16GB - not enough for many pro users.

Ports, with many 27-inch iMac users making use of the USB-ports, SD card slot.

Display, with many users of the 27-inch not looking for less screen space.
Apple suggests the Mac Studio and an accompanying display as a more powerful alternative, however the cost of this means it's not viable for many. The new Mac Studio with Studio Display starts from £3498! We wrote more about this and alternative options, here.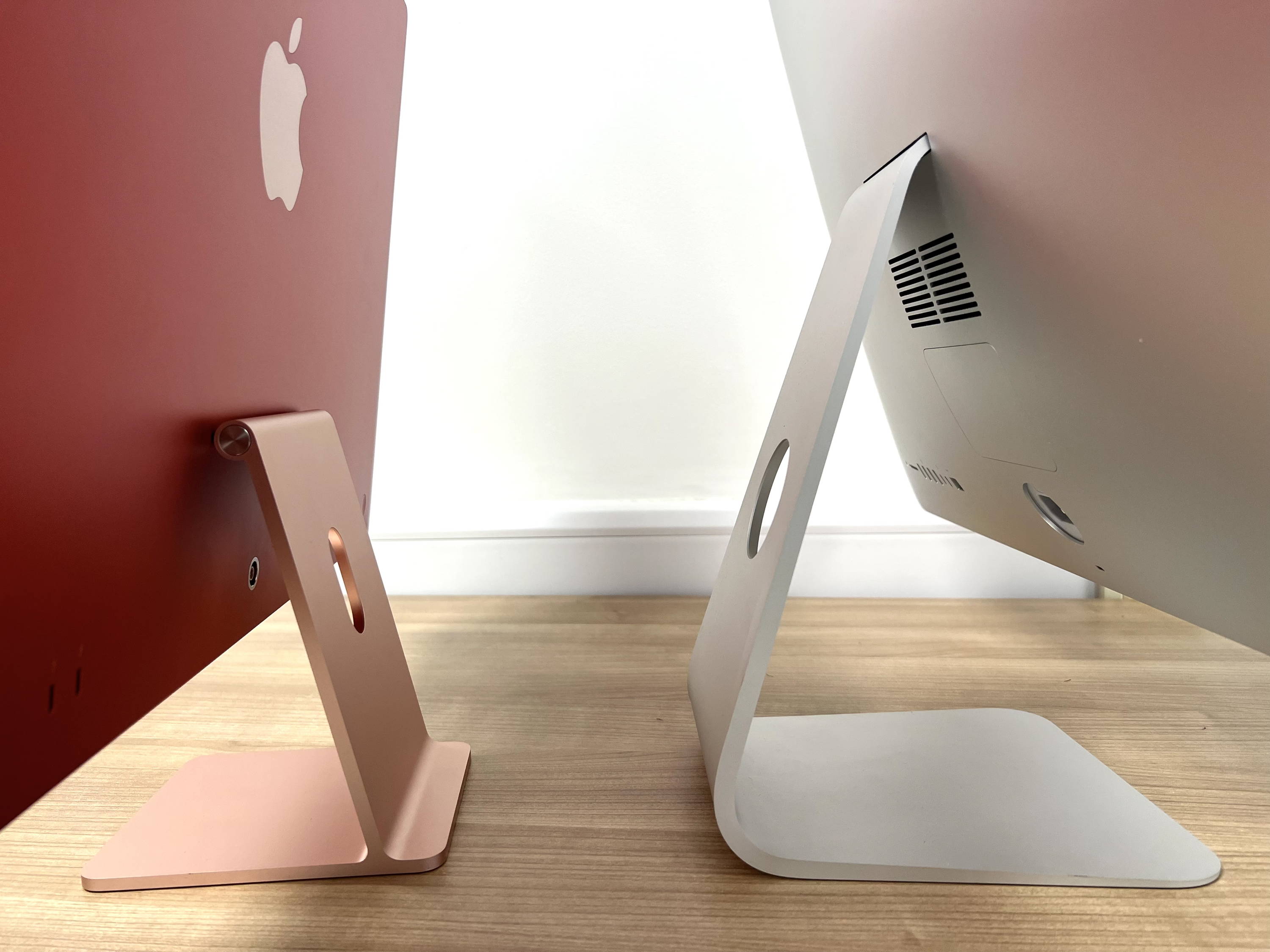 Memory (RAM)
Similar to the other M1 models, the M1 24-inch iMac comes with 8GB of memory as standard, but it is possible to configure it with 16GB. This is not upgradable.
SSD Storage
The base model can be upgraded from 256GB to 1TB, with the higher end models available with 512GB up to 2TB.
Connectivity
The iMac has Wi-Fi 6 support for the fastest Wi-Fi performance
FaceTime camera and Sound
Apple's M1 iMac includes an improved 1080p FaceTime HD camera, studio-quality microphones and a six-speaker sound system.  
The Mac comes as standard with two Thunderbolt 3/USB-4, the higher end model offers two additional Two USB 3 ports.
Standard headphone jack on all models.
The power supply now lives outside the body and includes Gigabit Ethernet on the higher end models or as an upgrade.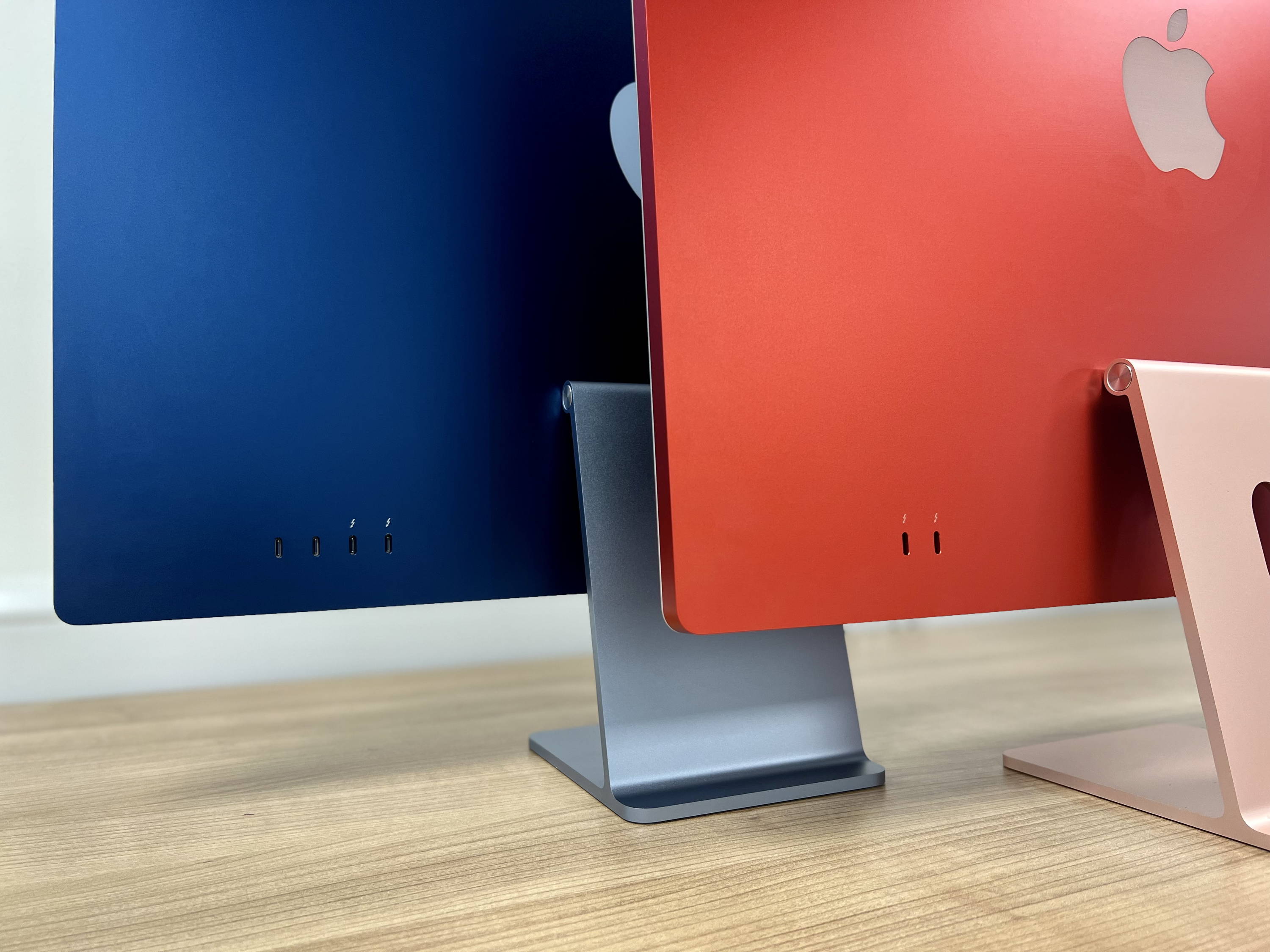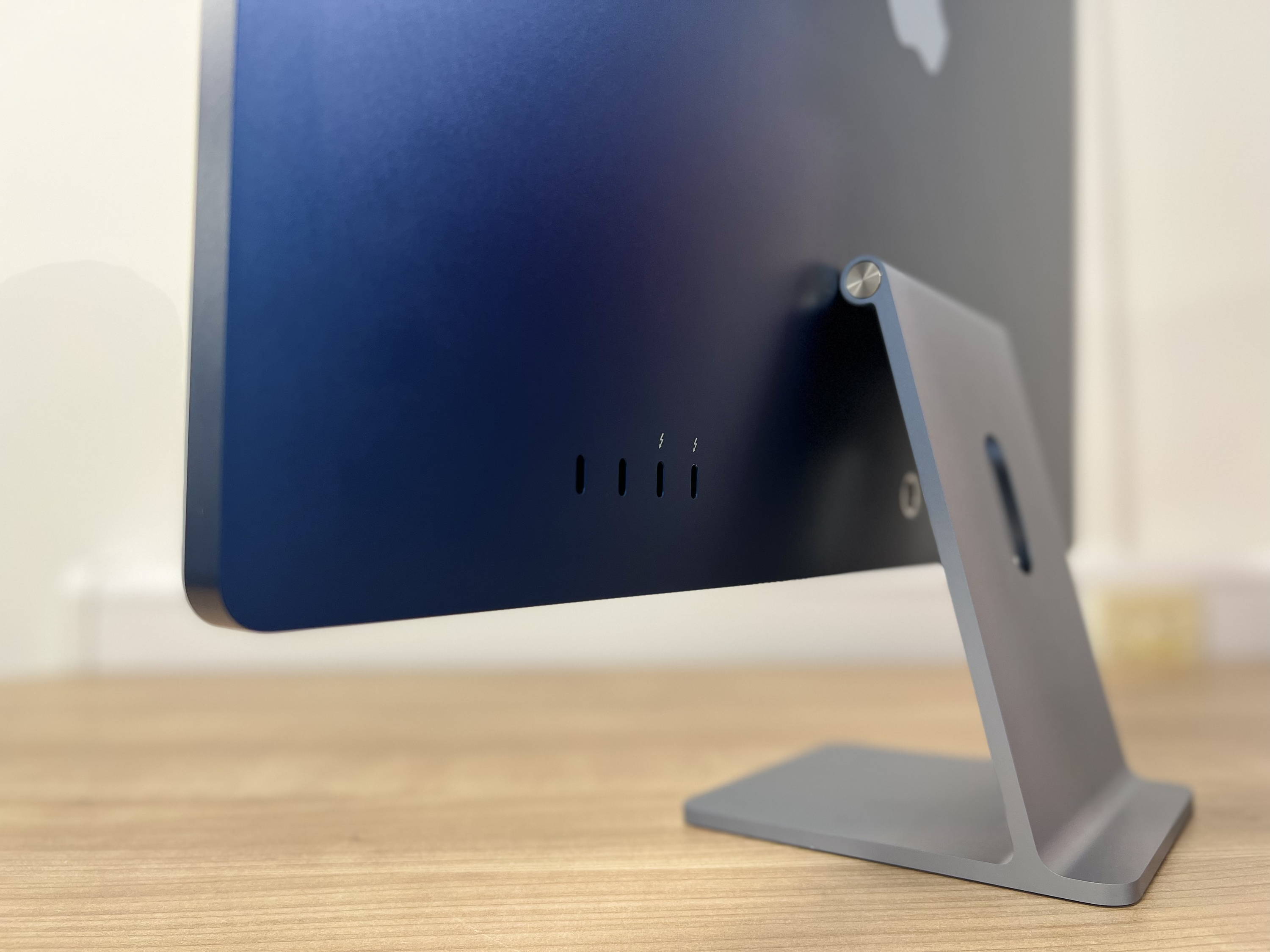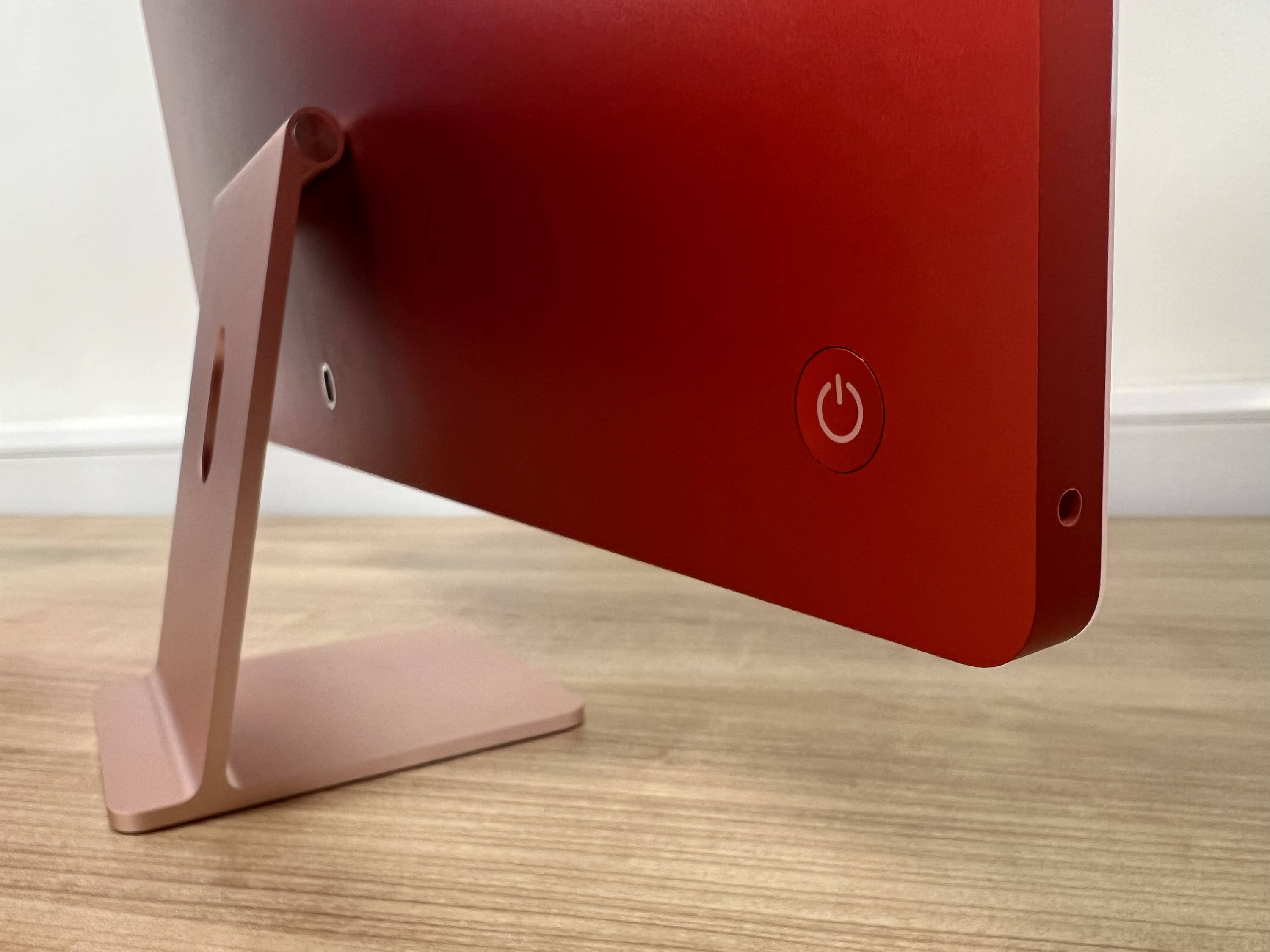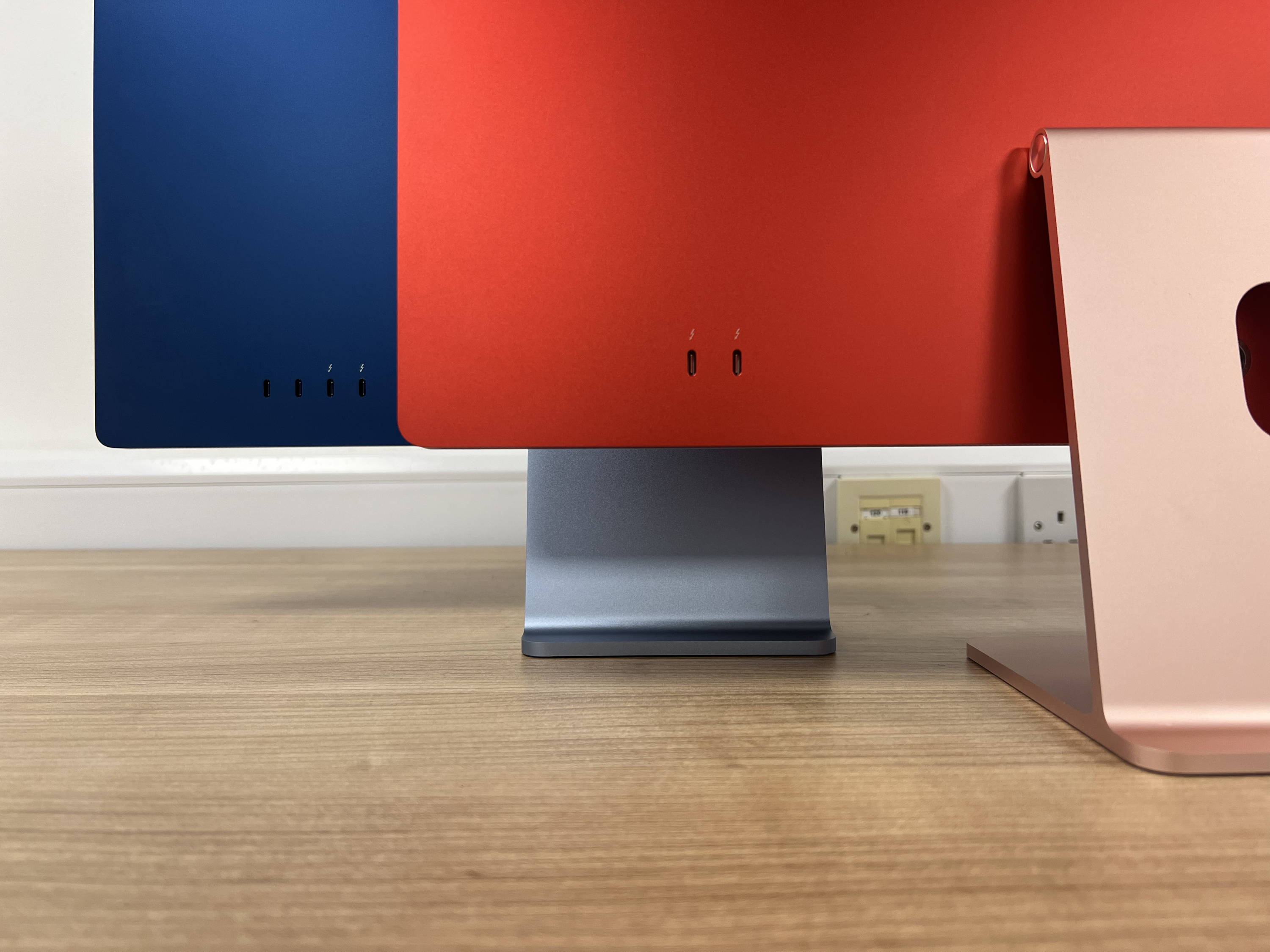 Apple's 24-inch iMac starts from £1249.99 and is available in three standard configurations;
£1249, Apple M1 chip (8-Core CPU, 7-Core GPU), 8GB RAM, 256GB SSD, two Thunderbolt / USB 4 ports, and Magic Keyboard.


£1449, Apple M1 chip (8-Core CPU, 8-Core GPU), 8GB RAM, 256GB SSD, two Thunderbolt / USB 4 ports and two USB 3 ports, gigabit Ethernet, and Magic Keyboard with Touch ID.


£1649, Apple M1 chip (8-Core CPU, 8-Core GPU), 8GB RAM, 512GB SSD, two Thunderbolt / USB 4 ports and two USB 3 ports, gigabit Ethernet, and Magic Keyboard with Touch ID.
As with previous models, storage, ethernet and accessory upgrade are available.
Save money with Hoxton Macs

At Hoxton Macs our 24-inch iMacs start from £1050 (£199 saving) with the upgraded models available with increased saving on the upgraded models. Our Macs are also in stock and available, hence there will be no lengthy waits to receive the Mac after you purchase.  
---